Home
Books
Law Journals
CLE Papers
Encyclopedias
Case Digests
Reference Tools
Law Blogs | News
Case Law | Court Dockets
Legislation
International Law
Foreign Law
Governments
Organizations
Legal Writing
Legal Citation
Teaching LRW
Law-Related Movies

Law-Related Movies

Since I am an avid fan of movies, I have included on this site an updated version of law-related movies that I had created for my students when I was teaching legal research and writing at the University of Toronto, Faculty of Law.

The 165 law-related movies on this site have been arbitrarily limited to those that contain one or more of the following features: interesting courtroom scenes, portrayal of lawyers, themes of justice or liberty, or discussion of substantive legal issues. Generally excluded are films with a focus on political issues or crime.

The pages on this site are divided into the following topics:

For more extensive lists of law-related movies, see any of the following:

The Oklahoma Legal Group Blog: "Best Legal Movies of All Time" (13 January 2014). Contains a detailed infographic ranking law-related movies by Oscar / Academic Awards, among other things.
See also:

In addition, the Faculty Lounge blog has a number of entries relating to law-related movies (click here). The Fordham Law School also has a Forum on Law, Culture & Society that hosts an annual film festival that includes viewings and discussions about movies with law-related themes.

Send recommendations for titles to be added to owner@legalresearchandwriting.ca.

---

Last updated: November 2016 | Legal / Terms of Use | Ted Tjaden © 2010-2016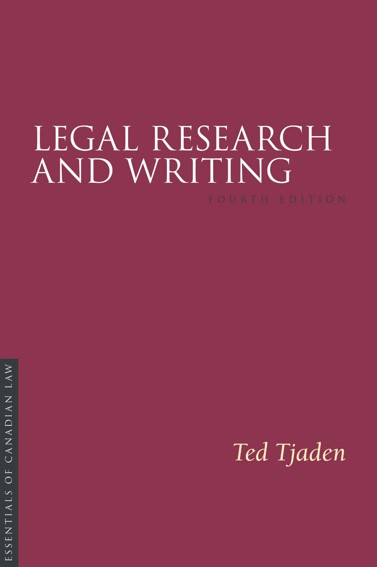 Legal Research and Writing:
4th Edition
by Ted Tjaden
Softcover 512 pgs.
Published: January 2016
ISBNs:
Paperback: 978-1-55221-414-5
e-book: 978-1-55221-415-2
Purchase here
_________________
Irwin Law: Canadian Online Legal Dictionary (click here)